Can I tell you something? Okay, thanks. One of the highlights of my day is hanging out with you on Facebook.
I like you. A lot.
I love to show you cookie pictures, and I LOVE when you tell me how you feel about them. It makes what I do so much fun. When we passed the 2000 friend mark last week, I'm not going to try to act cool - I cried a little bit. It overwhelms me to thing that something that I do is interesting to so many people. It's also quite humbling.
So anyway, I like you and I think you're cute. Whew. Glad I got that out there.
So let's give away some stuff! Since so many of my friends like to EAT cookies and so many others like to MAKE cookies, I decided to have a prize choice.
For those of you that like to eat cookies (I mean, really who doesn't?) here's what you can win:
You can choose your summer set: Hibiscus Flowers, Flamingo Set, or Tropical Fish. If those don't say summer, I don't know what does! You can keep them for yourself or have them shipped to a friend.
For you cookie decorators (or those of you that want to try your hand at all the fun), I've put together a Wilton decorator's pack to get you started or keep you going.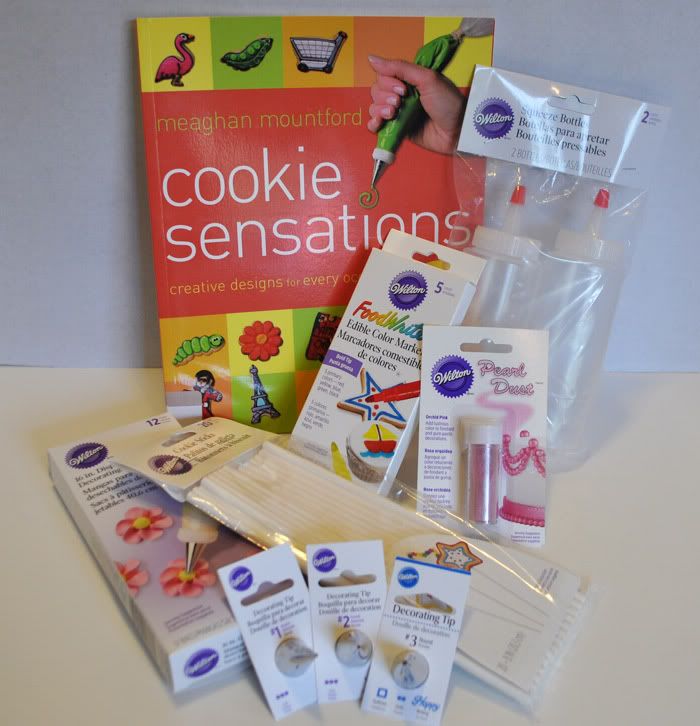 Included in the Wilton's Cookie Decorator's Pack is:
Cookie Sensations: Creative Designs for Every Occasion by Meaghan Mountford <great pics!
Wilton Decorating squeeze bottles (2 pack)
Wilton FoodWriters (5 colors)
Wilton Pearl Dust (pink) <great for making rosy cheeks!
Wilton Cookie Pop sticks
Wilton disposable decorating bags (12 pack)
Wilton decorating tips (size 1, 2, & 3)
You have a chance for up to 7 entries! Follow the directions below for instructions on each entry. Giveaway if for U.S. entries only and ends on Thursday August 9, 2012 at midnight. Prizes will be shipped on Friday, August 24, 2012. Sweet Luck!
a Rafflecopter giveaway