Since the beginning of Sweet Bella Bakery in 2010, we have always closed the week of Christmas and we don't reopen until the 2nd week of January. I have always considered this a gift (or apology?) to my four sweet kiddos and my ever faithful and encouraging husband of almost 20 years.
From Halloween to Christmas, they don't see a whole lot of me - and so this long break for me to step away from the icing bag and reconnect, relax, and just have family fun has become a tradition. We actually count down the days until that special Friday before Christmas when all of the packages of sweets are shipped and delivered. Even though the holiday frenzy is one of my FAVORITE times of the bakery year, my family just hangs in there until I'm free. Bless their hearts.
But this year, I decided to book a wedding for New Year's Eve. My husband was supportive (natch.) and my kids kind of sighed. But I knew that by then, they'd be so busy with the Christmas haul of toys & electronics that they would hardly notice a 2 day absence. I was excited.
Because you see, I have never made NYE cookies. Never. No gold. No silver. Sparkles. Champagne glasses. I couldn't wait.
The bride chose an antiqued pocket watch set to 5:30pm, the start time of their reception. I loved the idea and swooned when she chose black bows to top the gold beauties. We did almost 200.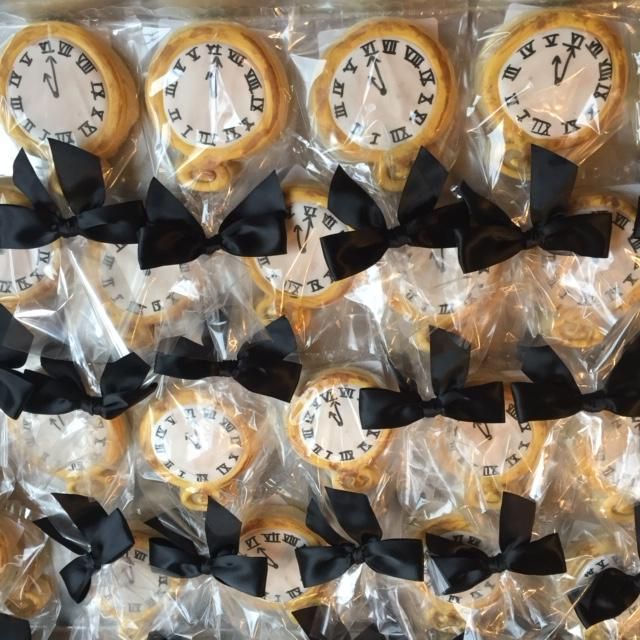 Loved them. But then. It was time to play. We were invited to a NYE party...I offered to bring dessert! (Not that anyone ever expects me to show up with a ham, ahem.) I did not hold back on the shine, the sparkle, and the shimmer. So without any further ado, I give you...the FIRST ever Sweet Bella NYE cookies.
Order cookies like this here
I love them with all of my heart. I can't wait until next year.
Please don't tell my kids!